Sticking a beak, claw or paw in – that's what many of our pets are doing right now, and we're loving it.
Many of us are consigned to working from home during the coronavirus (Covid-19) outbreak, meaning our pets have their 'favourite person' with them all day. And they want to help.
We asked the ExoticDirect Facebook followers to share pictures of their pets lending a 'hand' as they work from home and we got some great pictures.
Meet Jagger the Bearded Dragon, who's offering a helping claw with emails for his owner Alan. Maybe he'll do some online insect shopping while he's there as well....
Jagger is helping out with emails on a busy work day
And we all know this feeling. Tilly's broken into a daydream and is taking advantage of the sun's rays. Those emails may have to wait a little longer...  Owner Lianne shared this lovely picture of Tilly working hard with us.
Tilly enjoying the sun while working hard
And meet Frodo the ferret - who's joining a meeting with her owner Kristin. It beats livening up a meeting with sweets and biscuits that's for sure!
But its not just our pets enjoying spending more time with us. It's good for us too.
Research shows that when we spend time with our pets, our brains release the hormone, Oxytocin, also known as 'the love hormone'. This makes us feel good, and helps us to bond with animals, people and have a feeling of well-being.
It's also linked with reduced anxiety, stress, blood pressure and risk of cardiovascular disease among a whole range of other things. So in this time of uncertainty, our pets can help to calm us down and feel happy.
Here at ExoticDirect we too are benefiting from working from home.
AlbertCookie is taking full advantage of our colleague Hannah working from home.
He's helping her with calls to the ExoticDirect team and showing off his computer skills. Maybe we'll recruit him as a our new team member!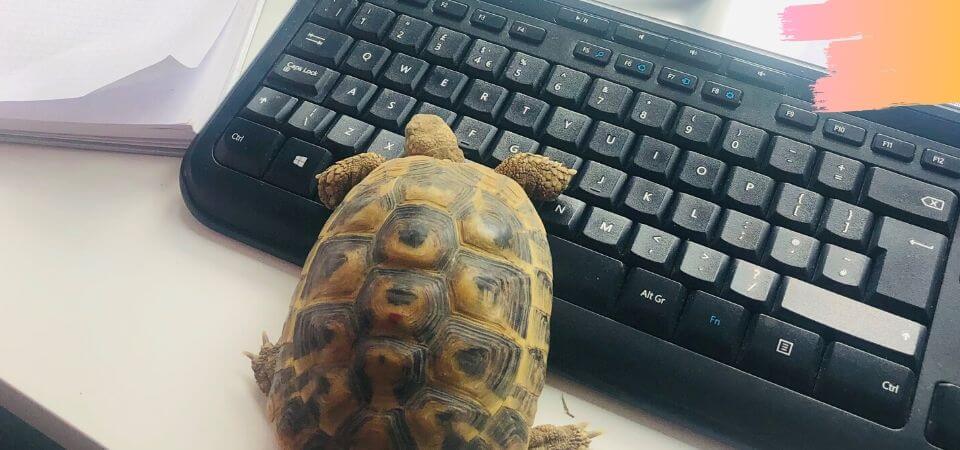 AlbertCookie getting stuck in while Hannah's back is turned
And well some pets, they have all the fun. Check out this amazing social distancing bunker built for 3 cute guinea pigs, by their Guinea Pig Dad.
Getting creative is a great way to keep your mind occupied and your pet happy. For rabbits you can use loo rolls, cardboard, Pringles tubes and even pegs to make exciting new toys. Check out our article on making rabbit toys and how they can stop rabbits chewing things they shouldn't.
And for Guinea pigs you can use the same ideas. You can even interpret what your
Guinea pig's noises mean
 in our article.
Benefits of working from home during the coronavirus outbreak
Apart from enabling social distancing, working from home also has real benefits in pet care.
It means your pets get constant company, which can help with its mental well being.
Although more feisty pets pet's like parrots may object to having their routine disturbed.
For lizard and snake owners, maintaining and monitoring vivarium temperatures and humidity levels should become easier. You could even switch off those misting pumps and do it yourself – saving a few pennies along the way.
Pete Hawkins advises that not all lizards like you to disturb them - so if your pet is territorial, you should stick with your automatic misting pump.  (Check out his advice for iguana vivarium setups).
This is also a great opportunity for you to let your lizard out of its vivarium, ensuring all is safe to do so. Bearded dragons often enjoy exploring! 
And tortoise owners can get themselves and their tortoise outside into the fresh air all day long, because you're there to supervise him.
Combined with a lie in in the morning and no commuting, working from home has a lot of benefits!
Panic buying for our pets
Forget the loo roll! Many pet owners are worried about not getting enough supplies for their pets. Pets at Home has reported "exceptional levels of demand" as pet owners stock up.
All pet shops are classified as an 'essential service' by the Government, so you don't have to worry about your local pet shop closing. And many pet shops are coping with demand. Check out pet shops we work with offering delivery. 
Surge in re-homing pets
For those of us who have always wanted a pet, the crisis has offered a fantastic opportunity to finally re-home a pet.
The Battersea Dogs Home and Dogs Trust have seen a surge in dogs and cats being re-homed.
In one week in March Battersea Dogs Home re-homed more than double the number they did the previous year. With 86 dogs and 69 cats finding new homes.
And The Dogs Trust has seen a 25% rise in re-homing.
However, both charities caution against re-homing pets simply because of the lockdown.
Adam Clowes, Operations Director at the Dogs Trust says "A dog is for life, and in this case, not just for lockdown" he continues to say "We really need people to think about what might happen the other side of this outbreak when people are hopefully back to their usual routines and have other commitments".
Battersea Dogs Home also offers caution with Rebecca Maclver Re-homing and Welfare Manager at Battersea advising: "People should not be re-homing pets as a diversion during this unprecedented time. Our rigorous vetting and matching process remains unchanged".
The same will also go for people looking to re-homing exotic pets, as these can be even more complex to care for.
So if you are looking at re-homing a pet, just be sure you're prepared for the commitment and financial outlay, even after the coronavirus outbreak is over.
If you can't commit to a pet long term you could consider offering your help to people in your local community.
Vulnerable or self isolating dog owners particularly may need help at this time. So you could try offering dog walking help.
Remember to take precautions as you would in any situation at this time. The Gov.UK website advises that you should wash your hands before and after handling a dog, remembering to stay 2 metres away from people and the owner in the meantime.
And finally...
With all the extra attention our pets are getting at this time, don't forget to stick to normal feeding and sleeping routines. This will help your pet to remain stress free.
And remember, that with all that play, they may well need a few more naps during the day too!